Tribute artist and comedian Laurie Ayers becomes Phyllis Diller in this live one-woman show, Phyllis Diller Story Time for Grown-Ups delivering comical readings of this legendary comedian.
Hailed as one of the best Phyllis Diller performers in the world, Miss Ayers' performances have wowed audiences worldwide. She's performed in Las Vegas, England, LaughFest Grand Rapids and in major conventions from coast to coast.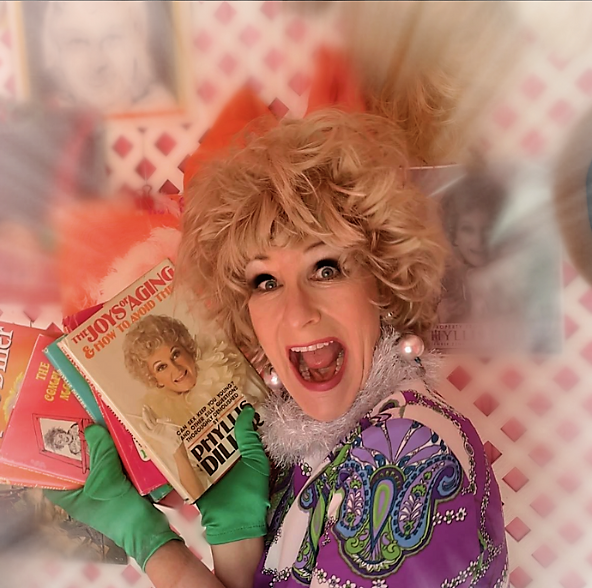 Through live comedic dialogue, along with playful crowd interaction, Ayers captures the persona and heart of Diller, recounting her absurd journey as a housewife dealing with her kids, mother-in-law, her fictitious husband, "Fang," and her numerous facelifts.
Reading from Diller's autobiography, as well as her other books on marriage, housekeeping, parenting, and aging, Laurie will include many of Diller's greatest quips such as My Mother-in-law Wears Army Shoes, What to Say When a Moth Flies Out of the Oven, From Here to Maternity, Facelifts: Medicine's Way of Telling Nature to Flake Off, and The Truth About Fang – plus many more surprises!
Host this this fun, highly entertaining grown-up, clean show for your group. Bring your mid-century sense of humor for a slice of nostalgia. Wigs, boas, gloves, and eccentric Phyllis Diller-esque attire suggested; laughs required.
—
"We had Laurie Ayers, "Being Phyllis Diller," as our Featured Guest! It was a fantastic hour of 'Phyllis Frolics and Fun!' Whenever ANYONE is looking for lots of laughs for an event, segment, or podcast, you'll want to book Laurie Ayers' "Being Phyllis Diller!" Everyone will LOVE it!" – John Theillon, co-host of 'JT & The Jersey Jewel,' at Hamilton Media
"West Michigan comedian offering 'slice of nostalgia' in tribute to Phyllis Diller – Grand Rapids Press
"I'm looking at pictures of Phyllis. I'm looking at you. You do look like Phyllis Diller." – Shelley Irwin, NPR affiliate, WGVU Morning Show