Dismantle Boring With Fun Nostalgic Phyllis Diller Tribute Artist Laurie Ayers
As comedy legend Phyllis Diller, Tribute Artist Laurie Ayers owns rooms, dismantles boring, and brings fun, interactive entertainment to your event.
Have your guests reminiscing about your event for years to come. Bring in Celebrity Impersonator Laurie Ayers for standup comedy, grown-up story time walkabout entertainment, meet and greet photo ops, and product ambassador to create an immersive experience that complements your theme and occasion. 
Laurie Ayers is on a mission to keep the legacy of comedy legend, Phyllis Diller alive by Being Phyllis.
Laurie Ayers is dedicated to making sure the laugh and life of this icon and trail blazer who paved the way for all female stand up comedians isn't forgotten.
She is available for:
Why Phyllis Diller?
Explains Ayers, "I grew up watching Phyllis Diller on Dean Martin celebrity roasts, Rowan and Martin's Laugh-In, and game shows such as Hollywood Squares, Match Game, and Password. Phyllis was also in movies, on the Tonight Show, and was on TV on Love American Style, and The Love Boat. She was brilliant.
Phyllis Diller died at the age of 95 in 2012 after 47 years performing comedy. Many people today haven't thought about Phyllis in years, or simply don't know who she was. A few recognize her name only as the lady who did voices in The Bugs Life or Scooby Doo.
There's so much more to this woman than the clownish, comedic persona she presented on stage. She was a mom, a wife (twice), and a dedicated professional who didn't accept mediocrity. She was kind, and generous, she was a powerhouse.
I have a long history performing standup comedy, character sketch comedy, and celebrity impersonating. When the world shut down in early 2020 and put a halt on conventions and corporate comedy, many entertainers found themselves grounded. That's when I pivoted to Being Phyllis.
A Phyllis Diller Expert is Born
I have spent hundreds, likely thousands, of hours immersing myself in all things Phyllis Diller. I've read every book she wrote or was written about her. I've watched and listened multiple times to all her standup comedy sets that were recorded; I have scoured the internet for every interview she gave; and I have talked with people who had the honor of meeting or working with Phyllis.
I also have the honor and privilege of owning many items that belonged to the comedy legend, including one of her wigs, hats, a scarf, shirt, glasses, and artwork. Whenever I prepare to perform, and subsequently become Phyllis on stage, I wear something that belonged to her. It helps me channel the queen of comedy.
I am on a mission to keep Phyllis Diller's legacy alive. Currently based in West Michigan, I am available for interviews, comedy performances, and celebrity impersonator meet and greets, and photo ops. Contact me to bring BEING PHYLLIS to you."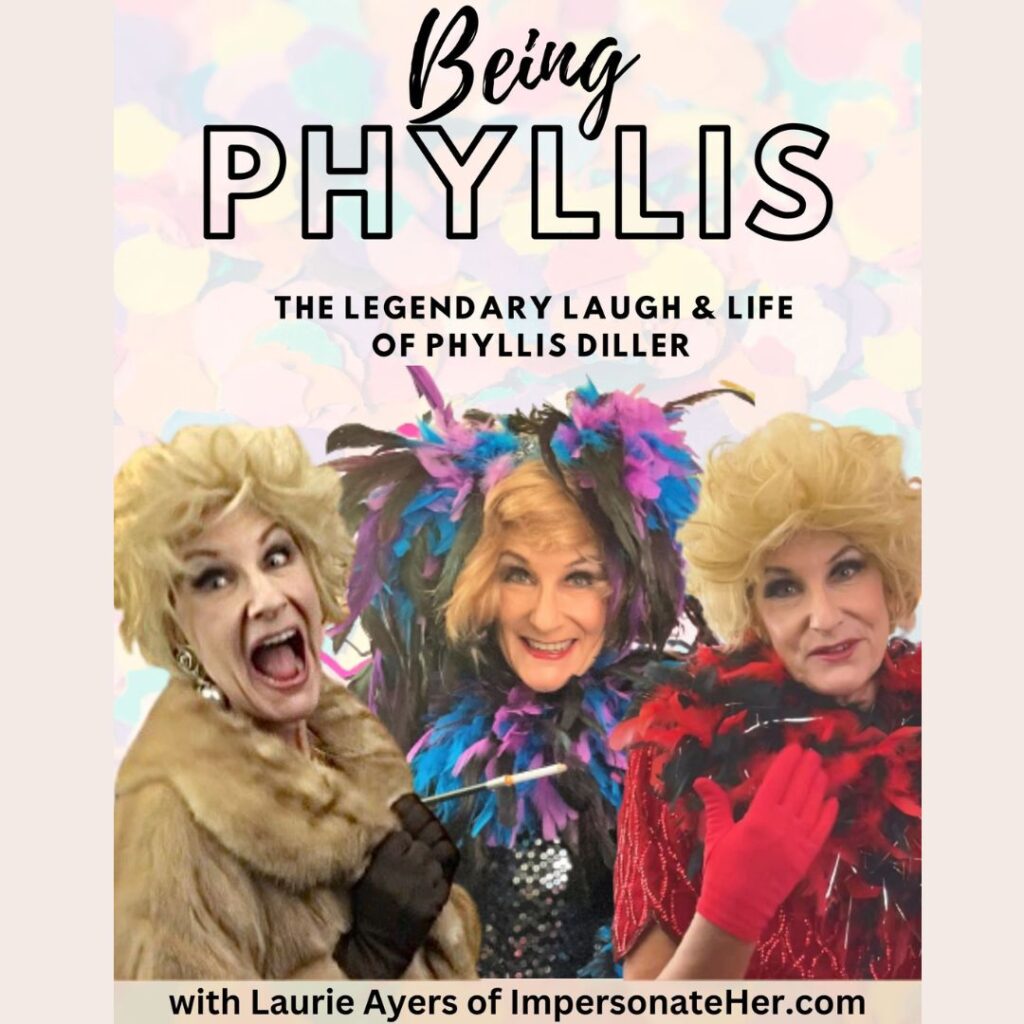 Laurie Ayers' Phyllis Diller Social Media Links: