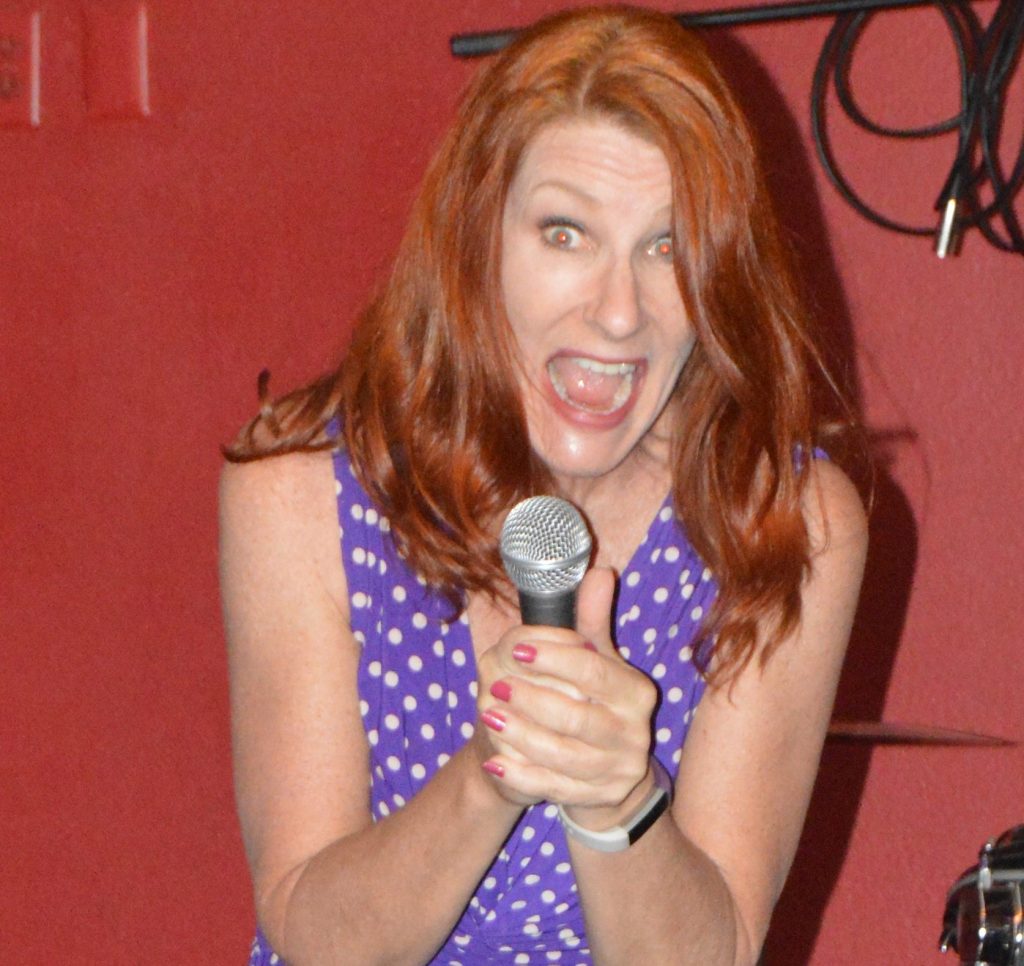 I Get Around
If you're old, you may have seen me at the Comedy Den in the late 1980s, or more recently at LaughFest in Grand Rapids. Or I may have been the emcee or entertainer at your corporate event, or officiating a wedding you attended. 
Comedian Laurie Ayers
Performing is in my DNA. I first hit the stage in 1968 with my tutu and tap shoes and have been performing ever since, showcasing my various talents from dance, playing musical instruments, keynote speaking, corporate, clean stand-up comedy and as a Celebrity Impersonator as Phyllis Diller.
"If you're funny, you survive. If you're not, you don't" – Jerry Seinfeld
If you're still working on the math, I've been entertaining audiences for over five decades. I credit "good moisturizer and lots of laughs" to my youthful appearance. No plastic surgery, like the queen Phyllis Diller had. Though, if you represent a plastic surgery association and wish to hire me, I would take a blepharoplasty as payment. 

Wondering Where You May Have Seen Laurie Ayers Before? 
Amway Grand Plaza
Bally's Las Vegas
Bethesda Marriott
Big Buck Brewery
Buck Creek Nature Preserve
Clearwater Place
Comedy Den
Coral Gables
Creston Brewery
The D Las Vegas
Dan Aykroyd Podcast
Davenport University
DeltaPlex
Dr. Grins
Egypt Valley Country Club
Ferris State University
Frankie's Tiki Room Las Vegas
Fremont St. Las Vegas
Garden View Barn
Gerald R. Ford International Airport
Gilda's Club Grand Rapids
Golden Nugget Las Vegas
Grand Lady Riverboat
Grand Rapids Press
Grand Valley State University
Jethro.fm
John Ball Zoo
JT & The Jersey Jewel Show
Kansas City Convention Center
Kava House
Kent County Sheriff's Department
Lake Mead NV
Lakeshore Community College
Lansing Marriott
LaughFest Grand Rapids
Manchester England Marriott
Michigan State University
MLive
ModBettie
Mulligan's Pub
Notre Dame University
Ottawa County Sheriff's Department
Palazzo Las Vegas
Plaza Las Vegas
Post Family Farm
Red Rock Canyon NV
Scentsy Meridian ID
Sheraton Dallas TX
Sidney Tavern
Signature at MGM Las Vegas
Spectrum Entertainment Center
Sprinkles Donuts
Terra Square
Tootsie Van Kelly's
US Postal Service
VFW Post 3030 Otsego
VoyageMichigan
WGVU Morning Show
Windjammer Lexington KY
Wine Ridge Resort Pahrump NV
Woody's Pressbox
*If you're wondering if I'm the same Laurie Ayers, lie detector author and speaker, and wedding officiant, yes that's also me.